The Dreams & Details Model for Innovation Leadership
Helping leaders thrive and sustain success in the digital age.
The "Dreams & Details leadership model" originated from the book of the same name by Jim Hagemann Snabe (former Co-CEO of SAP; Chairman of Siemens) and Mikael Trolle (former National Coach in Volleyball). It provides the leadership tools and the strategic mindset that leaders and organizations need to thrive in a fast-changing world. Use it to your advantage to maximize your organizational and employee performance today and in the future. The leadership model enables you to unleash potential and continuously reinvent your organization from a position of strength to spearhead change and innovation.
Inspiring people to be part of a meaningful and ambitious journey.
The 'dream' is what we want to achieve. It is derived from the overall purpose and long-term strategy of the organization and defines a relevant direction for the company, but not the plan on how to get there. This direction has to be clear while being ambitious and inspiring for the whole organization to prompt employees to see their work as meaningful and full of purpose.
Simultaneously, it will not limit the organization to predetermined results but leaves room to actually reach the optimal results. It may seem contradictory, but by not focusing on results, you will likely achieve better results.
On top of that, developing an inspiring dream for the whole organization is also prone to resonate with outside stakeholders. When a business anchors the contribution to solving a larger issue in its DNA, it will experience far more interest, sympathy, and willingness to engage by potential customers, investors, partners, and other stakeholders.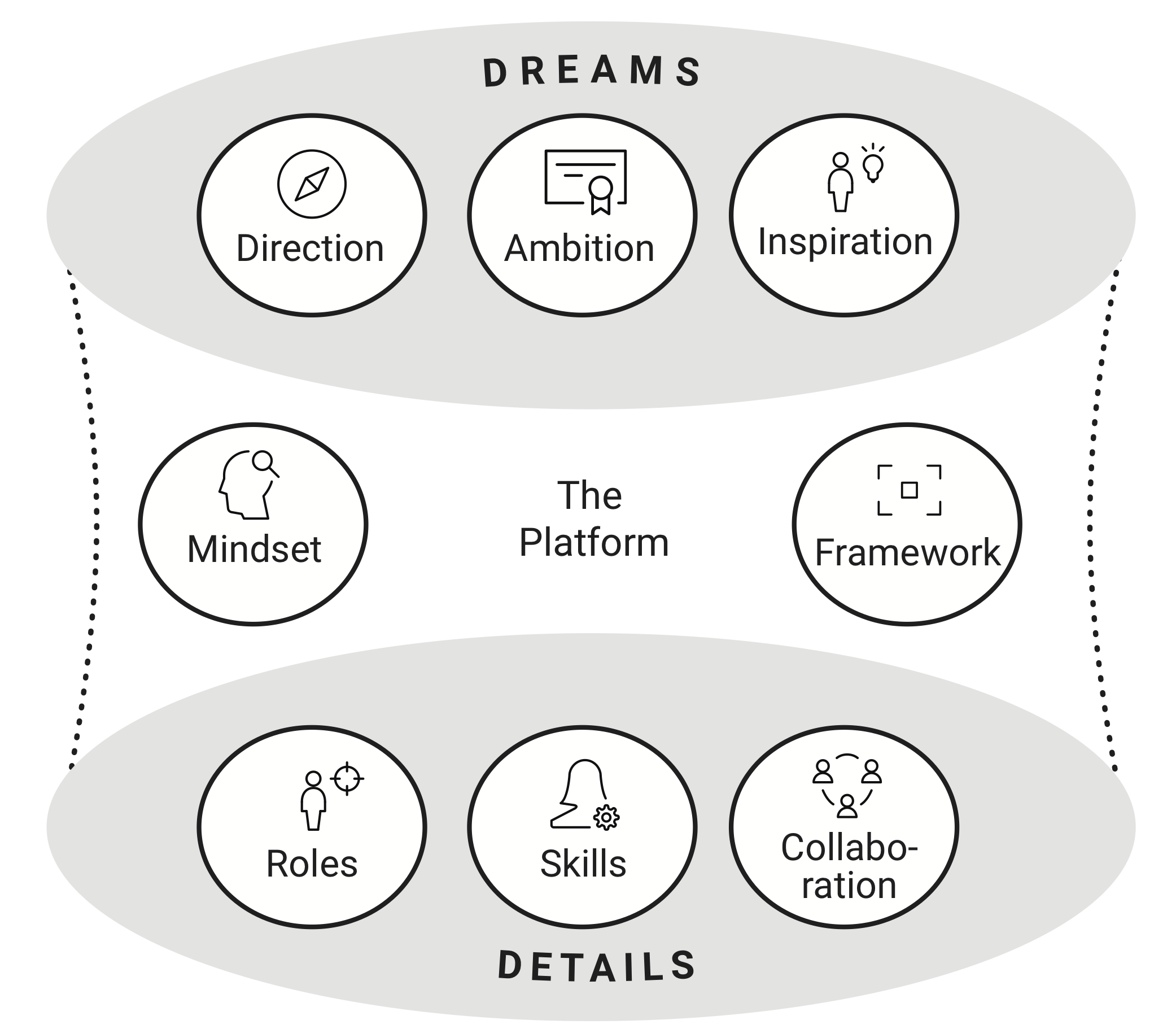 Enabling people to beat their best in areas that are critical to achieve the dream.
The 'details' define which areas we need to transform and master to achieve the dream (on organizational level and individual employee level). In other words, the Details define which areas need the most substantial change to succeed in the future.  We don't suggest focusing on all details possible, but the few (2-3) crucial details that need the most radical change to develop the needed capabilities and performance of the organization to achieve the dream. 
While these details are focused on organizational capabilities, the individual employees occupy an essential part in succeeding with the details. Leaders need to ensure that employees develop those skills that are vital for reaching the organization's ambition. Moreover, leaders should secure that everyone is put in a role to succeed and foster collaboration between individuals, teams, and departments for more far-reaching, optimized solutions. When those conditions are met, the roles, skills, and collaboration become indispensable elements for succeeding with the details.
The Dreams & Details framework is desgined to guide leaders and businesses to thrive in a fast and radically changing world. Originating from the book by the same name, it helps you:
Scan and understand the business environment to identify looming changes, growing markets, and future opportunities ahead of time.

Develop an ambitious dream, able to inspire the entire organization with a clear direction for future success.
Strike the optimal balance between optimization and transformation to keep your business successful over time.
Beat the 'Innovator's Dilemma' and be the disruptor instead of the disrupted.
Understand what really motivates, engages, and drives people and build your organizational culture on that.
Empower people, unleash their full potential, and create a high-performance work culture.
Empowering People based on a common Mindset and clear Framework.
To empower employees to become more autonomous decision-makers and solution-finders, leaders have to find and communicate a valuable mindset. The mindset translates the dream's ambition into the details, as a guide for the practical areas of change. It embodies the understanding of how to make the optimal decisions to drive the organization's transformation. As the mindset becomes ingrained in the employees' minds, it will be a point of reference for every decision they make.
At the same time, employees need a framework of rules and norms to work in, marking the boundaries of action. Once the mindset and framework are in place and fully embraced by the whole organization, employees will be able to move more autonomously, responsibly, and creatively within these confines. This enables more decentralized decision-making within an organization and thus a far higher speed and innovativeness. As a result, leaders will unleash the potential of their individual employees, but even more on a collective level, maximizing organizational potential and performance.
Reinvention and the Dynamic Change of Seasons
For a business to stay successful over a longer period in times of change, it has to reinvent itself repeatedly and optimally from a position of strength. Otherwise, it may just be a matter of time until even the most optimized offering becomes irrelevant due to changing business logic and customer demands.
This starts with challenging the assumptions of the status quo and a proactive approach to scouting for the fundamental changes in your business environment and value chain. This allows you to identify dying or changing markets on the one hand and fast-growing markets along with major opportunities on the other. At the same time, your business needs to maintain and build on its position of strength to maintain optimal financial strength, market access, and talent retention. You are required to strike the perfect balance between optimization and transformation. That's what we call a "dynamic change of seasons": The fluid transition from current success into a promising future before a potential decline of the business.
That's what the Dreams and Details model is designed to help you with. It provides a tangible framework to challenge assumptions, identify future challenges and opportunities, and devise a one-page strategy map to transition from current success into the future. In addition, it draws from behavioral science and motivational theory to understand what truly motivates, engages, and drives humans to perform to their highest capabilities. This enables you to build your organizational culture on that knowledge and create a high-performance environment while empowering employees, fostering decentralized decision-making, and creating a purpose-based organization.
Finally, the model provides startups/scaleups and legacy organizations with a common language and a framework for collaboration to shape the future together.
Combining the best from the worlds of business and elite sports.
Mikael Trolle is the CEO and Partner of the Danish consultancy firm Idonea, helping organizations reinvent from a position of strength and unleash human potential based on the Dreams & Details model.
Previously, for 28 years, he was CEO and Sports Director at Volleyball Denmark and, for two periods, the head coach of the men's national volleyball team. Mikael's career has spanned eight years as an international volleyball player, followed by 21 years in head coaching positions at club and international level summing up 342 matches spearheading the men's national team. He is a a lecturer and examiner at the University of Copenhagen and at Copenhagen Business Schools High Performance Leadership programs as well a speaker at the High Performance Institute. As a consultant and corporate advisor, he has worked with numerous Danish and International companies and organizations, such as Novo Nordisk, The Danish Government, The Royal Danish Theater and the Danish Broadcasting Corporation DR.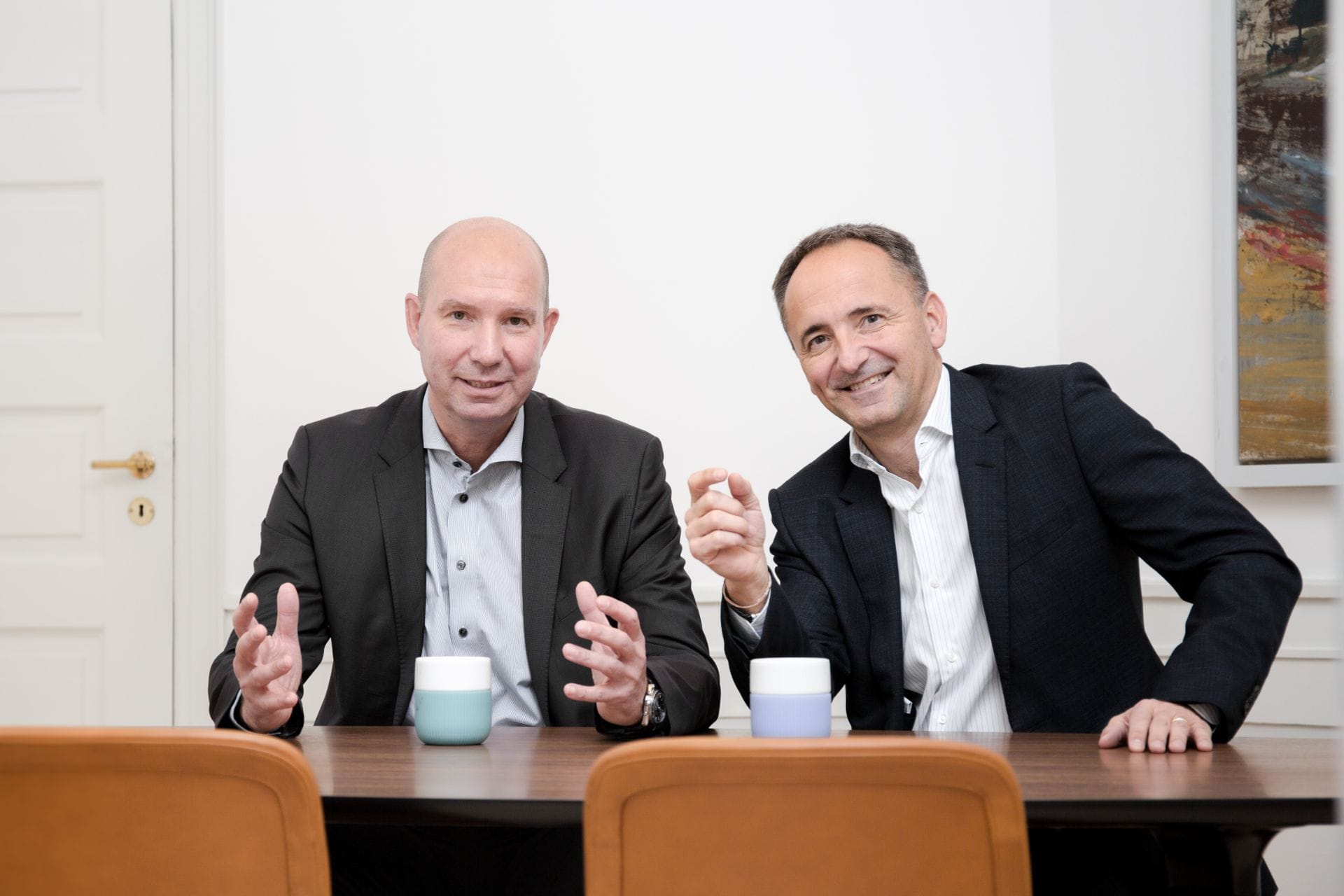 Jim Hagemann Snabe is the Chairman of the supervisory board of Siemens AG  and a member of the Board of Trustees at World Economic Forum. He also used to be Chairman of the board of A.P. Moller – Maersk A/S and Vice Chairman of Allianz SE. Jim has developed his career through 24 years of service in the IT industry. Throughout his career Jim has had leadership roles at SAP and IBM, leading global consulting, sales, and product development organizations. He was appointed a member of the executive board member of SAP in 2008, responsible for Innovation and Product Development. In 2010 Jim Hagemann Snabe was appointed Co-CEO alongside Bill McDermott.  Together they successfully reinvented the software giant SAP from 2010 to 2014. At Maersk, Jim has been an essential driver of the organization's business transformation as well as its industry-leading decarbonization efforts. Through his involvement with the World Economic Forum, Jim is actively engaged in efforts related to the Digital Transformation of business and society. Moreover, Jim Hagemann Snabe is an adjunct professor at Copenhagen Business School, CBS.